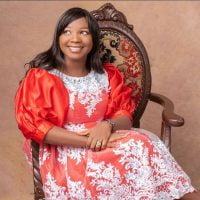 Adesua Oni
Founder, Pregnancy Support Foundation
Saying I am excited about the AFRICAN NURSES, BREAKING BOUNDARIES summit would be an understatement.
Adrenaline rushed through my system and I watched one Nurse leader after another raise golden dust, speaking confidence and positive change into the lives of their colleagues.
I couldn't sit still as I listened to phenomenal and outstanding nurses speak. Mr Charles nearly broke my bone yesterday when he explained how he confidently got himself right into the Rotary club. I was so fired up. I was soooo proud.
This is what I have been crying out for in this profession.
Nurses who would stand out and seek for ways by which to change the status quo.
I smelt it from afar when I saw the first flier and immediately I lurched at it and paid instantly Then shared with others.
I knew it!
This was it!
And it's looking so amazing already despite having many more days to go in the event.
Thanks so much Josiah Jackson-Okesola and all the organisers who put this summit together ❤.
You are all amazing.